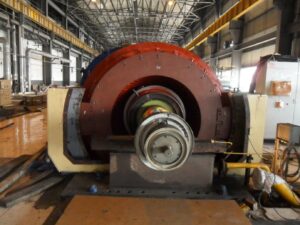 Belco is one of our regular customer having 4 units of 135 MW, 13.8 KV steam turbo generators. We have already done one complete machine rewinding and partial rewinding of other 3 units.
Earlier due to time constraints we did them Resin rich coils with the best possible dielectric strength in the industrial today.

COMPLETE REWINDING OF STATOR WITH NEW RR STATOR BARS
For this job now we are upgrading Resin rich to to single bar tube VPI insulation system.
The VPI bars will be tested at
Routine test:
AC High voltage test – 3Un for 1 minutes (1 KV increment for every second)
IR before and after the AC High voltage test.
Dissipation factor at Rated voltage – 10 x 10-3 (1%)
Dissipation factor Tip up between 60 % with 20 % of rated voltage – 0.25 x 10-3 (0.25%)
Type test
VET – As per IEEE 1553-2002 & IEEE 1043-2002 Schedule B. (The subjected bar shall place the test bed at 35 KV for 250 Hours)
TCT – As per IEEE 1310-2012.
PD and all other routine tests to be done at every 50, 100, 250, 500 cycles.
All the above mentioned tests shall be made in our NABL approved in-house Type test laboratory.